Fri21stFeb 2020
THE AMAZING DINOSAUR DISCOVERY
GET READY TO BE AMAZED AND THRILLED AS THE GREATEST CREATURES EVER TO WALK THE EARTH RETURN AND COME ALIVE BEFORE YOUR EYES!
Please note that the last session will be this Sunday 22 March. All sessions are reduced to 90 people. Please call 027 733 3466 to pre-book.
Watch them move and hear them roar! The Amazing Dinosaur Discovery is travelling NZ for their FIRST and ONLY tour!
Come and explore your way through the Jurassic period in an interactive dinosaur walk-through that brings prehistoric giants to life. There are over 30 lifelike dinosaurs to see including the gentle herbivore Brachiosaurus (have we mentioned his neck is 12m long!?), a pack of ROBOTIC RAPTORS and of course, the king, the Tyrannosaurus Rex.
You'll also find activities galore with something for everyone. Discover a fossil in the digging pit, learn about your favourite dinosaur at The Discovery Depot or burn off some energy at the Dino-mite Playground. There's lots more to see and do!
SESSION DATES AND TIMES
There are sessions from 21 February – 22 March every Friday, Saturday and Sunday. Please pre-book by calling as there is a restriction of 90 people per session.
Morning- 10am – 12.30pm, on Saturdays and Sundays
Afternoon- 1.30pm – 4pm, on Saturdays and Sundays
Evening- Fridays: 6pm – 8.30pm, Saturdays: 5pm – 7.30pm,
TICKETS
Please pre-book by calling Call: 027 733 3466
General Admission for both children and adults is $25 and children under 2 years age are free!
For more about what's included with the pass visit https://dinosaurdiscovery.co.nz/prices/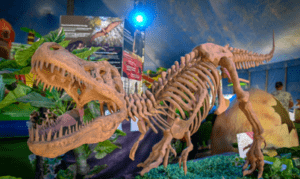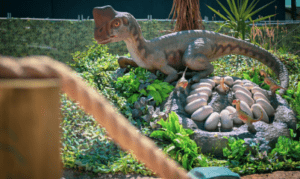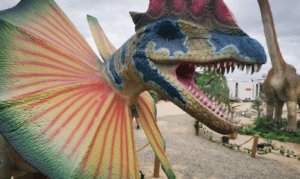 Tauranga Crossing Carpark

Friday, 21st Feb - Monday, 23rd Mar